Expedition Amazonia

ist der neue Film des mehrfach preisgekrönten Filmemachers und Komponisten

Roberto Fischer

.

Gemeinsam mit dem Expeditionsleiter

Alexey Kolbov

begleitet er den Anthropologen

Andrey Matusovskiy

zu den Matsés, den Jaguarmenschen aus Peru.

Die Matsés leben im geheimnisvollen Amazonas und gehören zu den gefährdeten Völkern der Erde. Deren Verbindung zur Natur ist tiefgreifend und inspirierend zugleich.

Dieser Film ist ein Meisterwerk, der nicht nur die Schönheit Amazoniens, sondern auch die Stärke der Menschen, die darin leben, feiert.

Begeben Sie sich mit uns auf eine epische Reise in eine unbekannte Welt und seien Sie bereit für dieses atemberaubende Abenteuer, das Sie noch lange nach dem Abspann begleiten wird! MEHR
Coming Soon
Expedition Niger

begleitet eine der seltenen Expeditionen durch den Niger.

Von einem Militärkonvoi vor Überfällen und Entführungen geschützt, begegnen wir unter anderem zwei der letzten Nomadenstämme der Erde: den Woodabe und den Tuareg.

Der Film von

Roberto Fischer

wurde international vielfach ausgezeichnet und lief als preview während der bundesweiten LETsDOK-Dokumentarfilmtage vor ausgesuchtem Publikum, wo er mit 'Standing Ovations' gefeiert wurde.

Verleih: imfilm Hamburg

Deutschlandstart: 2.11.2023
Expedition Niger - Pures Afrika
101 Min. | 4K | 16:9 | Deutsch | Englisch
Expedition Niger
Es ist eines der unbekanntesten und ärmsten Länder der Erde – und dennoch voller Reichtum: der Niger.
Reich wegen des Lächelns seiner Menschen, der Weiten seiner Wüsten und der Mystik seiner Völker.

Der Film begleitet eine der seltenen Expeditionen durch den Niger. Von einem Militärkonvoi vor Überfällen und Entführungen geschützt, begegnen wir unter anderem zwei der letzten Nomadenstämme der Erde: den Woodabe und den Tuareg.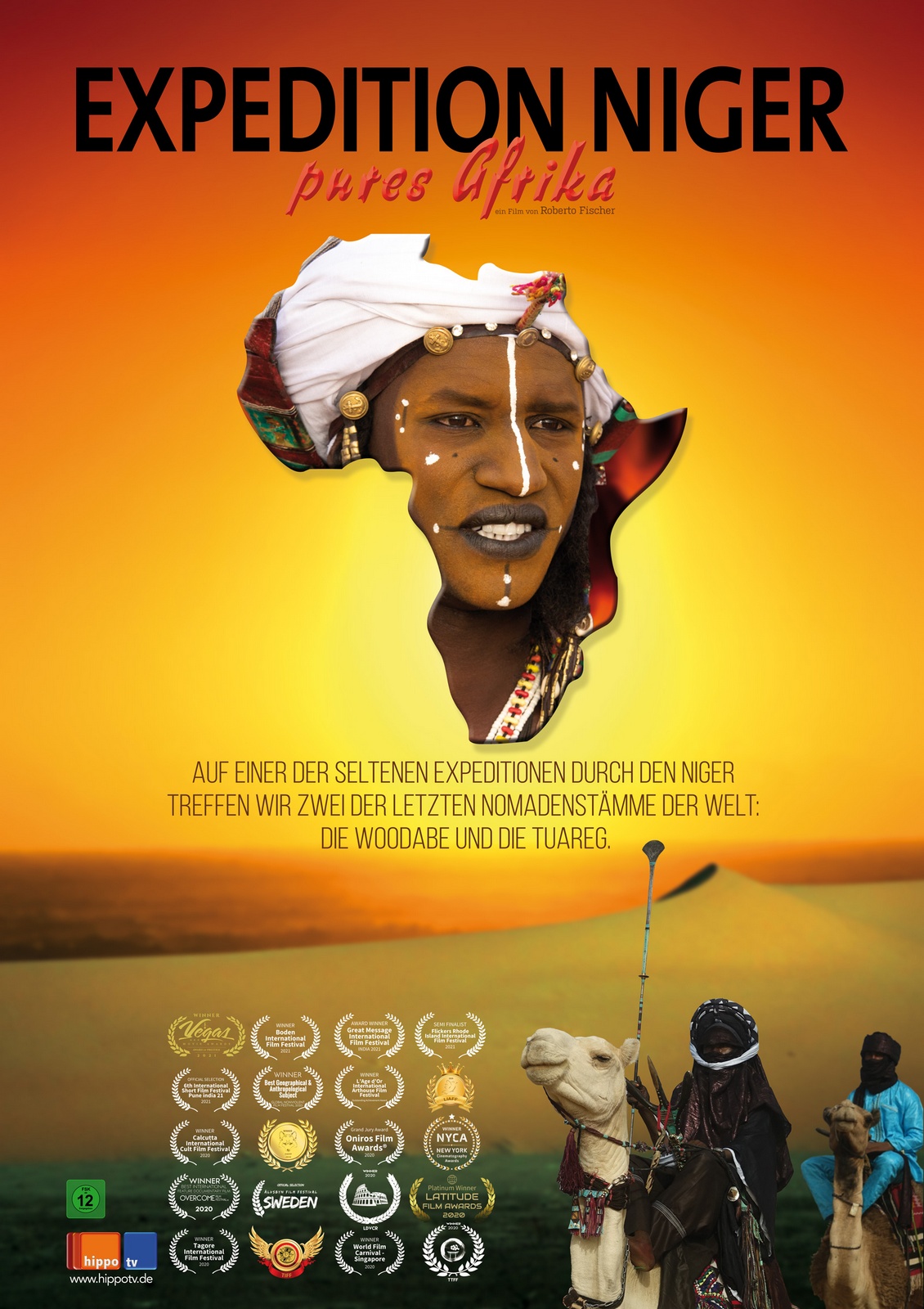 Der erste Teil unserer Expedition führt uns von der Hauptstadt Niamey zu den Woodabe, ihrer Schule für Nomadenkinder in Abulbal – und den Balztänzen des Guérewol-Festivals.

Der zweite Teil führt uns nach Agadez, dem Tor zur Wüste, durch das Aïr-Gebirge und die Wüste Ténéré – und schließlich zum Tuareg-Treffen nach Iférouane. Der Niger: das ist pures Afrika.

WINNER and Best Geographical and Anthropological Subject at the Global Nonviolent Film Festival, Canada
WINNER and Platinum Award at the Latitude Film Awards, London, United Kingdom
WINNER and Best Documentary Feature at the NYCA Awards/New York Cinematography Awards, USA
WINNER and Grand Jury Award at the Oniros Film Awards, New York, USA
WINNER and Outstanding Achievement Award at the TIFF/Tagore International FIlm Festival, India
WINNER and Outstanding Achievement Award Documentary at the LIAFF L´Age D´Or International Arthouse Film Festival Awards
WINNER and Outstanding Achievement Award Documentary at the Calcutta International Cult Film Festival, India
WINNER and Best International Feature Documentary Film at the World Film Carnival Singapore
WINNERandBest International Feature Documentary Film at the Overcome Film Festival
WINNER and Certficate of Achievement at the Tokyo Twilight Film Festival, Japan
WINNER Best Feature Documentary at the BIFF, Boden Film Festival, Sweden
OFFICIAL SELECTION at the Älvsbyn Film Festival, Sweden
WINNER and Best Feature Documentary at the Great Message International Film Festival
WINNER Best Documentary at the La Dolce Vita Cine Film Festival, Rome, Italy
WINNER and Social Awareness Award and Award of Prestige at the Vegas Movie Awards, USA
SEMI FINALIST at the Flickers Rhode Island International Film Festival, USA

OFFICIAL SELECTION

at the

International Film Festival Pune, India
101 Min. | 4K | 16:9 | ENGLISH | GERMAN
Expedition Niger
It is one of the most unknown and poorest countries in the world, and yet full of wealth: Niger.
Rich because of the smiles of its people, the vastness of its deserts and the mysticism of its peoples.

The film accompanies one of the rare expeditions through Niger. Protected from raids and kidnappings by a military convoy, we encounter two of the last nomadic tribes: the Woodabe and the Tuareg.
The first part of our expedition takes us from the capital Niamey to the Woodabe tribe, their school for nomadic children in Abulbal and the courtship dances of the Guérewol.
The second part takes us to Agadez - the gateway to the desert - through the Aïr Mountains and the Ténéré desert, and finally to the Tuareg festival in Iférouane. Niger: The Real Africa.

96 Min. | 4K | 16:9 | Deutsch | Englisch
Expedition Amazonia
Inmitten des Amazonas, umgeben von über 5 Millionen Quadratkilometern Regenwald, lebt eines der letzten ursprünglichen Völker der Erde:
Das Volk der Matsés – oder auch: die Jaguar-Menschen, wie sie wegen ihres auffälligen Gesichtsschmucks genannt werden.

Die Matsés leben an den Ufern des Javari-Flusses, der Grenze zwischen Brasilien und Peru. Für die Matsés selbst spielen politische Grenzen keine Rolle. Sie kennen nur ihr angestammtes Gebiet, in dem sie seit Generationen zu Hause sind – und so leben, wie sie es von ihren Vorfahren gelernt haben.

Doch wie bei den meisten indigenen Völkern sind auch bei den Matsés Lebensraum und Lebensweise bedroht. Noch haben sie selbst kaum Kontakt zur Außenwelt.

Eine der wenigen Ausnahmen ist der Ethnologe Andrey Matusovskiy. Er erforscht seit Jahrzehnten die indigenen Völker im Amazonas und ist regelmäßig bei den Matsés zu Gast. Wir haben ihn zu den Jaguar-Menschen begleitet, ihren Geschichten gelauscht, ihre Bräuche erlebt.

Expedition Amazonia – eine einzigartige Reise zu einem der letzten geheimnisvollen Orte dieser Erde.